Kevin Chiak
Founder & President of Fitness Movement
Multiple times National Bodybuilding Champion and Mr Singapore 2010, Overall Champion of Champions
Winner of Singapore Senior Manhunt 1996 / 97
Chief Trainer / Health Coach / Medical Fitness Specialist
Mr Kevin Chiak, most admired for his relentless fighting spirit in the Singapore Bodybuilding scene since attaining the prestigious Mr Singapore title in 2010 at the age of 44(oldest ever to win this title). He now leads the biggest physique sports championships in Singapore – the FITNESS MOVEMENT CHAMPIONSHIPS.
The road to success was not easy. The 1996 Manhunt winner was a corporate executive in his earier years, had a sudden calling to pursue the Bodybuilding sport. Determined, Kevin wrote to the President of the then Singapore Bodybuilding Federation who praised him for his courage. Encouraged by the words of the President himself, Kevin trained tirelessly. He took part at the National bodybuilding competition and on the 2nd year was crowned Champion in his Class Category. Kevin went on to winning 2 other years prior attaining the Mr Singapore title in 2010.
Kevin's firm believe in grooming young talents and the love for the sport had prompted him to establish Bodybuilding Singapore – now fondly known as the FITNESS MOVEMENT. FITNESS MOVEMENT has since held over 30 shows over 6 years and he crowned 6 other Mr Singapore. The success is evident, as the competition stage had produced numerous confident role models with an average of 100 athletes participating in each show. The local fitness industry rejoices, as this has raised the general awareness of having an active and healthy lifestyle amongst both the young and old.
Despite its success, FITNESS MOVEMENT strives to develop and serve the local fitness scene further. It has since evolved into a social enterprise which endeavour to reach out Nation wide with fitness campaigns and also in working with the community. With the newly crowned champions and veterans, FITNESS MOVEMENT has successfully outreached to both the Singapore Boys and Girls Home and also to the Community Rehab Center. The programs conducted not only helped to develop the individuals physically, it also contributed tot he character building of these young individuals. Kevin is confident that these teens could better integrate in to the working society, later in life. And in FITNESS MOVEMENT plans to open up gyms all over Singapore, it wishes to create careers and job opportunities for these youths in the fitness industry as well.
FITNESS MOVEMENT envisioned to provide its specialties and expands deeper into Grassroots and corporate companies, sharing the Singapore's initiatives to keep the general population fit and healthy.
---


Sabrina Ang
Co-Founder & Managing Director
Sabrina is highly experienced in the area of event marketing and operations. As Operations Director for C.T Hansen International for the past 3 years, she took on the critical role of  promoting and organizing the annual Miss Earth Singapore pageant for Singapore's young and passionate green ambassadors.  She has co-founded the company and the first fitness event "Singapore Fitness Model Search" together with Mr Kevin Chiak and has embarked on an exciting journey to bring this upcoming inaugural and nationwide sports event to greater heights. Sabrina has a Bachelor degree holder of Commerce (Marketing), specialising in e-business, information management and communications. She is also well-versed in multimedia, IT and event management.
---
Vincent Lam
Assistant Vice-President / Event Organising Chairman
Manhunt Singapore 2001 – 1st Runner Up
Sports Party Animal Movement (SPAM) by Singapore Sports Council – Sports Hunk – Winner 2008
Senior Manhunt Singapore 2014 – 1st Runner Up
FM League Physique War Seniors 2015 – 1st Runner Up
FM League Physique War – Sports Model – 1st Runner Up
Having been involved in the fitness and pageantry scene since 2001, both as a competitor and contributor, Vin adds his vast range experience, which includes his years of experience working in the banking scene, and subsequently over the past 8 years, working with the corporates and companies in their health engagements with their staff.
With 31 years of fitness experience (till date , 2022), Vin aspires to bring in his contribution, together with Fitness Movement in building a healthier, and more vibrant community to develop a healthier and fitter Singapore.
---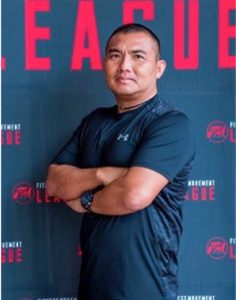 Ivan Ho
Vice-President, Mentor & Advisor
Ivan is no stranger to the bodybuilding scene, having served SBBF as General Secretary and also running several International event, he has also directed all of FM previous successful events in Singapore. Today Ivan is stepping up as Event Organising Chairman to oversee the whole events organised by FM
---
Kevin Khoo
Assistant Vice-President – Business Development
A strategic and creative thinker; Kevin is an enthused social conversationalist and presenter. Always eager to establish deep connections with people, he has held general and senior management roles and has also been effectively instrumental in pioneering various business development initiatives in both start-up and established industries of F&B, Retail and Hospitality over the span of two and a half decades.
Kevin is now a mindset and mindfulness coach and trainer. He volunteers for the Singapore Red Cross as an instructor for Psychological First Aid, and is passionate about mental wellness and self-care.
Kevin also advocates physical well-being. He is an avid badminton player and also hits the gym 2 to 3 times a week for cardio and strength training.
Certified by the American Board for Neuro Linguistic Programming (ABNLP) as a Master Practitioner and Coach for NLP & Time Line Therapy. Also a qualified International Coaching Federation (ICF) coach and certified in Management Drives profiler/management tool. Kevin holds a Post-Graduate Diploma in Integrated Marketing Communication.
---
Shawn Chan
Chief Statistician & Assistant Vice-President
Shawn is an exemplary individual who believes in being objective and meticulous. Currently an undergraduate majoring in Accounting and Finance, he has a keen eye when it comes to numbers and finances. He has completed several internships in audit and business risk. As Chief Statistician, Shawn is well versed in preparing statistics and has done so for the many past championships Fitness Movement has organised. He believes that as society becomes more affluent, people are putting more emphasis in fitness and their physique. Fitness Movement will be the perfect platform for such individuals to showcase and promote fitness locally and regionally.
---
Tan Chin Boon
Assistant Vice-President, On Stage Director
Chin Boon has diverse experience in the realm of sports and fitness. He was a school gym instructor and trained as a chinese wushu competitor in his teens. At 18 he won 4th place in the National Taiji competition and at 19 he won 2nd place in the National Southern Fist competition. He went through rigourous selection and succeeded in becoming a member of a special tactical unit where he spent 7 years training combat skills and executing rescue operations. The physical demands of the occupation fueled his passion for fitness and nutrition. Juggling work and passion, he participated in his first National Bodybuilding competition in 2009 and won 1st place in the classic bodybuilding category and 2nd place in the fly weight category. He has since competed in 5 National Bodybuilding contests and won several awards. As an advocate of health and fitness performance, he had a brief stint as a physical training instructor to National Service recruits before becoming a freelance personal fitness trainer. He is also currently a member of Ronin action team founded and led by accomplished local actor, Sunny Pang. The highly skilled team is set up to assist in stunt coordination and execution, as well as provide casting support and consultation services to the regional film-making production companies. They also conduct workshops for aspiring action film players. With his knowledge and experience, Chin Boon has been involved in the league's activities and we look forward to his continued assistance and contribution.
---
Donaven Quek
Assistant Vice-President / Backstage Director
Trainer by profession. Don serves the community with Fitness Movement in training the boys from Singapore Boys Home. He has been running as back stage director for a few events, and is set to do bigger events. Don is no stranger to being on stage as he has competed as an athlete prior to serving as the back stage director in FM.